Get in touch via e-mail
Sat, 07/27/2013 - 12:31

I just tried to make one of deena's amazing Greek salads...it was nice but not as good as deena's!! I definitely need to book up and come back for another amazing day with you guys! Miss it too much! Hope your all ok! Looks like you have been having lots of fun x x x
Sat, 07/27/2013 - 12:29

Jane Oliver Thank you Cpt George Vlachakis, and the crew of Argo lll for yet another memorable day! It was perfect in every way!!! Can't wait until next year!!!!!
Sat, 07/27/2013 - 12:28

Hi George, Just to say thank you for a fabulous day yesterday on your yacht. We all thoroughly enjoyed the day, it was definitely the best day of the holiday for us all. We hope we have the chance to do it again some day. This is my email address if you would be kind enough to send the pictures of us jumping off the boat. Thanks again, The Mills and Evans families.
Sat, 07/27/2013 - 12:26

George & Dina Just a short message to thank you for the fantastic trip we took with you last Tuesday - it was the highlight of an already memorable holiday. We were in the party of 7 (Evans & Mills Families) and everyone of us had the best day. Hopefully we will be back in Skiathos soon and will be able to join you again. If you don't mind we would very much like to have the photo's you took and we shall be grateful if you will e-mail them to me at this address. Once again many thanks Mark, Jayne, Nicola & Amy Evans. Mark and Pam
Sat, 10/01/2011 - 04:10

Hi Captain George, thanks for a very special day sailing aboard your wonderful yacht. Your hospitality was great, the food delicious and the views stunning. All in all a wonderful experience Thanks a million all the best Mark and Pam Gray 29/09/2011
Tue, 09/20/2011 - 12:00

Hello captain george. just a quick thankyou to you and dina for makeing our holiday extra special last saterday 27/8/2011.we all feel that it was the main highlight of our holiday,so thankyou both very much.hope to have the pleasure of seeing you both agen?happy sailings..THE BAILEY 8
Tue, 09/20/2011 - 11:59

Dear George and Dina Hope you are both well and just to say that the yacht trip was the highlight of our holiday and we both thank you for your hospitality. We are obviously back home and the weather is wet, windy and cold. I was hoping that the photo's might cheer me up on the laptop. However, I must have given the wrong e-mail address. If it is possible to sent the photo's that would be lovely. I really appreciate that you gave me the use of your camera. Thank you in advance and again for the wonderful experience. If we are fortunate to visit Skiathos in the future we would like to take another trip with you. Regards to you both Karen and Jim
Wed, 07/13/2011 - 13:08

Καλωσόρισες στην σελίδα του σκάφους μας ΑΡΓΩ ΙΙΙ και ελπίζουμε να διασκεδάσεις με το περιεχόμενό της. Βρισκόμαστε στην όμορφη Σκιάθο όπως άλλωστε κάθε χρόνο, προκειμένου να υποδεχθούμε τους πολλούς τουρίστες και φίλους, να τους δείξουμε τις ομορφιές της πατρίδας μας, την Ελληνική κουλτούρα και φιλοξενία. Θα χαρούμε να επισκεφθείς το σκάφος μας.
Fri, 07/08/2011 - 11:07

Hello – and warm greetings from Buckingham Palace! Firstly, M....... and I want to thank you so much for giving us both such a WONDERFUL day on the Argo III last Wednesday! It was truly the most happy and wonderful day of my life, and I enjoyed every minute of it! It was very special to be able to anchor beneath Agios Ioannis – we were so lucky with the weather! And such a fantastic lunch on board – thank you so much, Dina – it was perhaps the most delicious Greek food I have tasted! And then to see the dophins on our return, and to swim around Arco. Well, it was a truly unforgettable day. Thank you both so much for being such excellent crew and hosts!
June/2009 - Buckingham Palace - UK

Friday the 12.06.09 a great trip with the best 2 person crew George and Dina! We enjoyed a nice day with a lot of interesting information's about the island and there culture. The meal was Greece first class also the wine on board. The boat offers big space with a lot of security equipment. My wife Karin feels good. We found two new friends on a sailing trip. See us next year for a new trip on Argo. We wish you all the best nice greetings from Austria (Karnten) Karin & Herwig
THE BEST CAPTAIN IN THE WORLD !! June 24.06.2009 Martin C. U.K.

Hi George & Dina, We just wanted to say thank you to you and Dina for a fantastic day out aboard Argo last Monday 22/6/09. Without doubt it was the best day of our holiday. Can't wait to come back and do it again. I hope you have a great season, and we look forward to seeing you again soon. Kind regards Phil & Lorraine Gillard U.K.

Dear George and Dina of the name of all of us "MEDITERRANEAN CO" we would like to thank you for this fantastic adventure. Your philosophy make us to deside for your boat. The views made the best. We like and enjoy the sailing trip because you love what you do and you make........ We hopeyou and your family the best and we hope to be able to meat for one day again somewhere in the world. "THE MEDITERRANEAN CO" - ITALY

Απο την ώρα που γυρίσαμε πίσω σχεδιάζουμε το επόμενο ταξίδι στη Σκιάθο και ονειρευόμαστε όλα τα μέρη που θα πάμε με την ΑΡΓΩ. Για άλλη μία φορά να σας ευχαριστήσω για τη φιλία και τη φιλοξενία σας. Ολοι μας θα τη θυμόμαστε αυτή τη μέρα για καιρό. 17-06-2009, Αρης, Βίβιαν, Γιώργος και Bruce. GREECE-IRL
Heather Gough Wed, 07/06/2011 - 16:46

Can't wait to feel the magic once again. Fabulous day, fantastic people. Thank you for making our holiday so special.
Ullis Mon, 07/04/2011 - 11:24

Thanks for a wonderful Trip on your wonderful boat. I can really recommend this excursion. To experience greece from a boat is an experience. We are going to Skiathos in August again. Many hugs from Ullis and Stefan from Sweden.
Thanks! Your email has been sent.
Find us
0030 6932325167
ARGOYACHTS
argoiii@hotmail.com
Skiathos harbour between 07:00 – 10:00 & 17:00 – 24:00 daily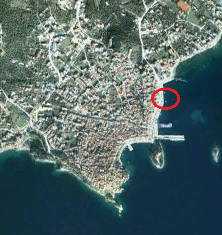 Meeting Point:
Find us in the new Skiathos harbour opposite Sollevante Cafe between 07:00 – 10:00 & 17:00 – 24:00 daily at Skiathos Island marina (east harbour).
Distance from the Airport:
2 km. (6 min.)
Transportation:
By taxi, at a price of 8 Euro For VIP'S transer service available Exclusive Car
Private Hire:
There is the option of booking a special private tour around the many beaches and islands of Skiathos, Skopelos and Alonissos. Please speak to the Captain for more information and pricing.