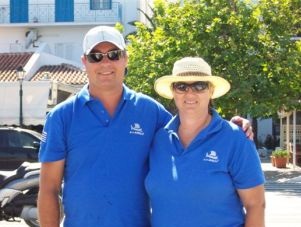 Unique Sailing Experience - Unforgettable Tours Change Your Life for One Day...Maybe for Ever !! Skippered & Crewed Sailing Holidays in Greece for Charter in Skiathos, Day Sailing, Private Yacht Charters, Cruises, Honeymoons, Weddings, Soft Adventure ! Cpt George & Dina
Choice your Unique Excursion, Unique Wedding Tour !
Day Sailing from Skiathos !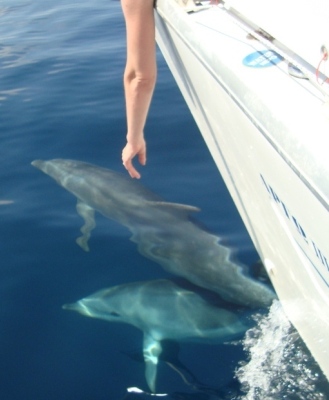 Day full of sun, drinks, good food and a lot of fun and relaxation! Treat yourself to a memorable day, which will be one of the highlights of your holiday in Skiathos. Enjoy an unforgettable excursion - cruising experience on a luxury 41 ft Sailing Yacht ARGO III. This Yacht is very spaces, has 3 double cabins, 2 bathrooms, external shower and a big living room. Enjoy sailing through the crystal clear water, breathtaking scenery all around, stay on the beautiful white sand beaches, snorkel inside the lagoons, explore the local marine line, and enjoy delicious food and bar services. This cruise is all about making sure you have a full day of true relaxation and fun.The island Skopelos is most famous for if its beautiful unspoiled beaches, with crystal clear water surrounding the entire island. You will enjoy full delicious lunch buffet set on the tavern or on the yacht. Please note that the menu includes fresh fish, fresh meat and a selection of fresh salads. If you are a vegetarian, please advice us before, so we can arrange the necessary additions to the lunch.

As part of the cruise you will pass by an amazing lagoon, where swimming and snorkeling are a must. During this excursion you will be able to see dolphins, seals, turtles and more... If this will happen, the crew will stop the boat, in order for you to observe these great animals from close in their natural environment. Of course you can choose to stay on the beautiful white sand beaches, enjoy a sun bath or a nice walk on the Island. This amazing paradise island is the perfect setting for a relaxing day of sun worship. This is no doubt a great place to enjoy a day of relaxation and fun on one of the picture-postcard beaches or enjoy swimming and snorkeling in the sea. During the sail you can enjoy light snacks, the bar services and the music. Change Your Life for One Day...Maybe for Ever !